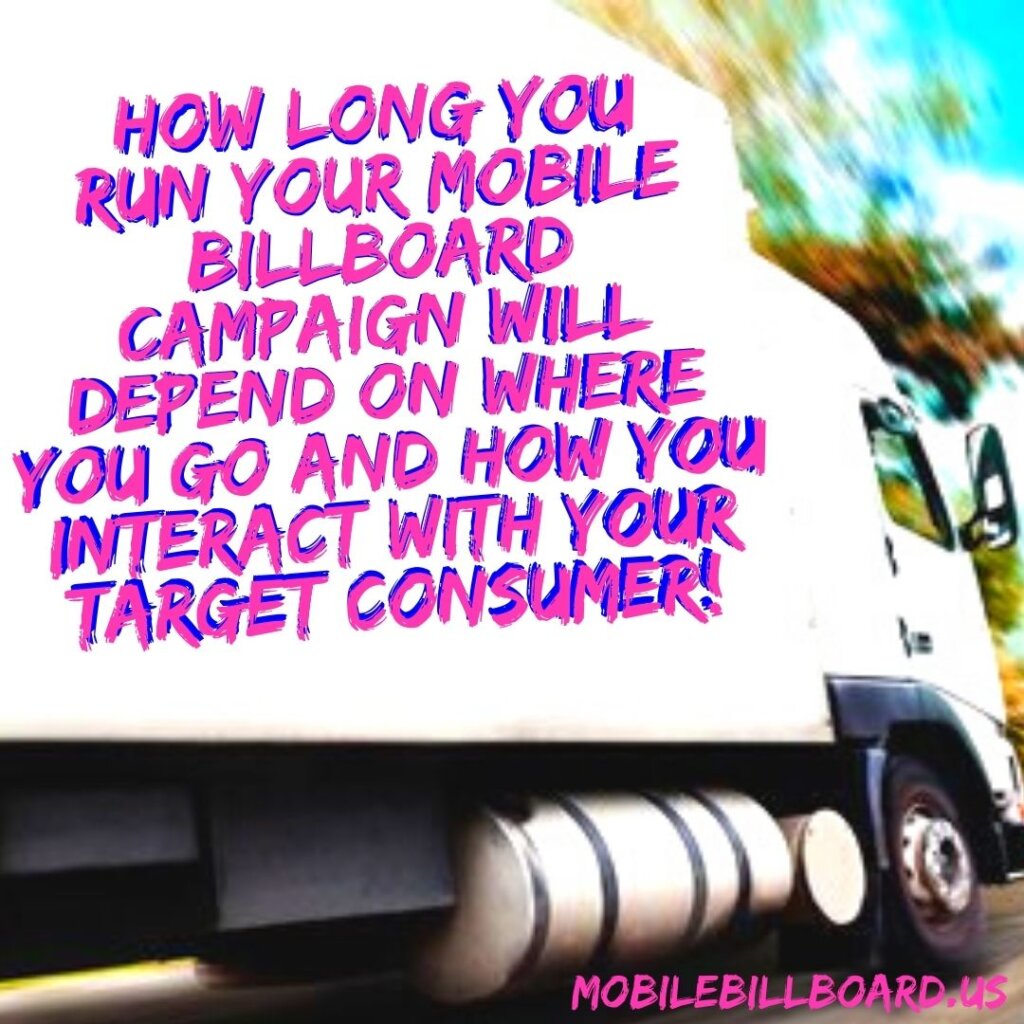 How Long You Run Your Mobile Billboard Campaign Will Depend On Where You Go And How You Interact With Your Target Consumer!
Often, clients will ask us "how long do you think we should run this campaign?"
This isn't a 1+1=2 type of equation. Truly it all depends on the habits of your target consumer and the locations in which you are being seen. This is why it is absolutely CRUCIAL for you to conduct in-depth consumer research before you even begin a marketing campaign. You need to understand whom your product or service is really for, what their day is like and any relevant information, such as workplace or hobbies, that can help you form a better strategy to be seen.
Mobile billboards have a 97% retention rate – meaning that consumers tend to recall the ad at a later date and time more easily than traditional ads. This is also called Top of the Mind Awareness. You want to be the first brand or product that pops into the consumer's brain when they are thinking of that particular category. This comes from being at the right place at the right time. Luckily, mobile billboard ads are so unique that folks tend to notice them crossing into their daily life but what can really make that message stick is repetition. For example, if you have a muscle milk you are advertising and your target consumer is typically at the gym after work, it's a good idea to be in that vicinity during that peak time. However, what will work even better is if you show up there more than once – perhaps 2 or three alternating days that week and the next.
The key is to dominate that space in a person's brain when it comes to that product. Your mobile billboard will naturally stand out and, if the ad is creative and interesting, be remembered but a person who sees that ad more than once will surely think of you before anyone else.
Figuring out how long to run an ad is based on these consumer habits as well as the overall goal. Your product may benefit better from hitting up an industry conference throughout the weekend. You may be building your brand and want to show up in more target areas and stick in the consumer's mind. What you hope to achieve will shape if you are running a weekend campaign, a 5 days a week for three months deal or somewhere in between.
Find a balance between your consumer research and what you are looking to achieve. Consult with your in-house marketing team and work with your mobile billboard provider. Together, we can find a winning combination that maximizes your efforts without blowing your budget. Keep in mind that mobile billboards travel where they like and obtain far more impressions (eyeballs looking at it) then traditional, stationary billboards that measure traffic (the number of cars that pass by at that particular spot).