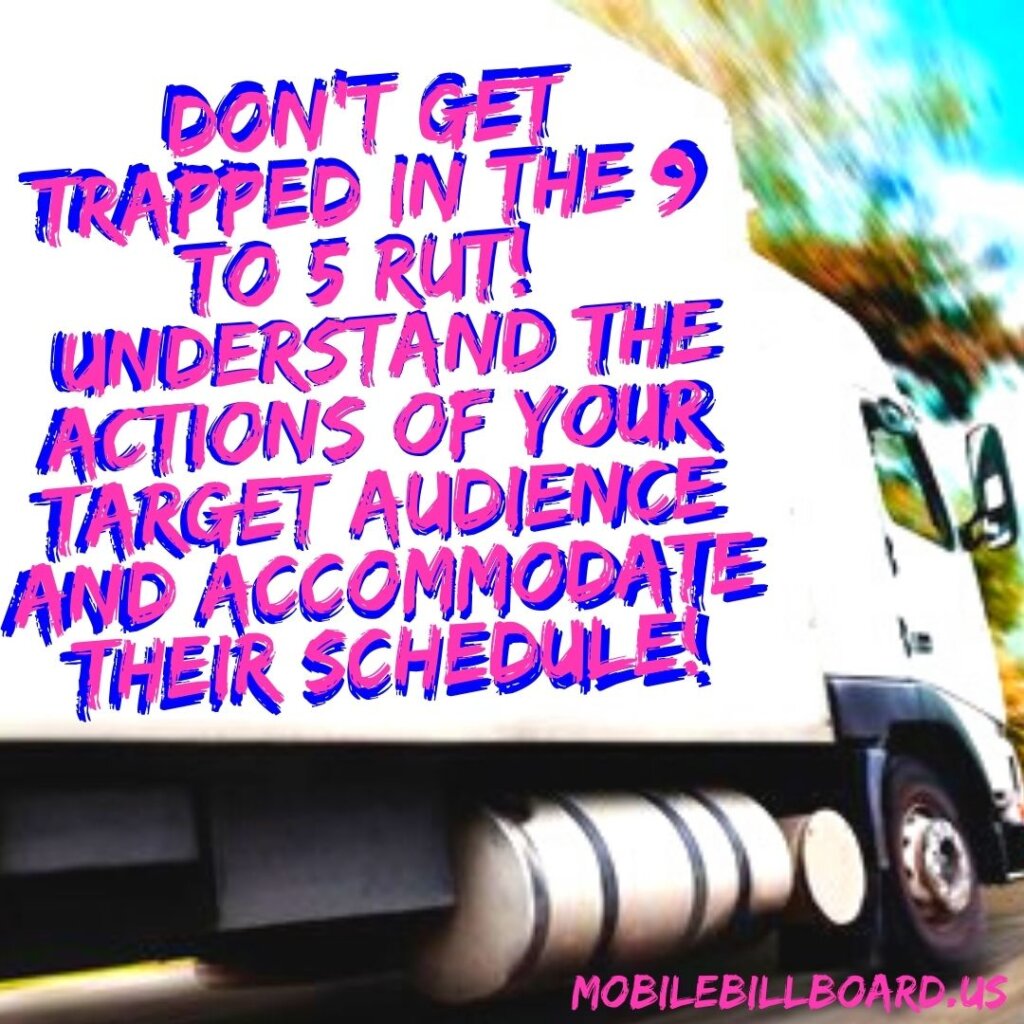 Don't Get Trapped In The 9 To 5 Rut! Understand The Actions Of Your Target Audience And Accommodate Their Schedule!
Understanding your audience is the most critical element of any marketing campaign you launch.
All of the research you do and data you gather about your target audience is what drives any form of marketing you do. Without this important step, you are wasting money on advertising that doesn't work. It isn't simply knowing what they like about your product or if it appeals to a an over 50 crowd. You have to know everything you possibly can about your customer – including habits. This applies to what they typically do in their day-to-day. By understanding what their life entails and how they run from place to place, you can fine-tune your marketing to be shown at the most optimal times, a.k.a. when the consumer will actually see and/or interact with the marketing.
One of the biggest mistakes made in mobile billboard campaigns is choosing the right hours and days to operate. In society, we view 9 to 5 as the busiest time of day, full of the most activity and most bodies out on the street. While this may be true for the most part, you have to take into account WHAT people are doing in that block. For instance, if your target audience is the typical office professional, they are likely working during that time frame and won't see your rolling ads, or any marketing for that matter, because they are in the office. Think outside of the box – before and after work or during the lunch rush. You can even scale completely outside of a typical work week and focus on appealing to them on weekends, at places they are most likely to be.
The point is that while 9 to 5 may be the most active part of a day on Earth, it may not be the best time for YOUR customers. Do your research, understand their habits and mold your campaigns around them. If it means running ads at odd hours or in places you wouldn't normally think – so be it.