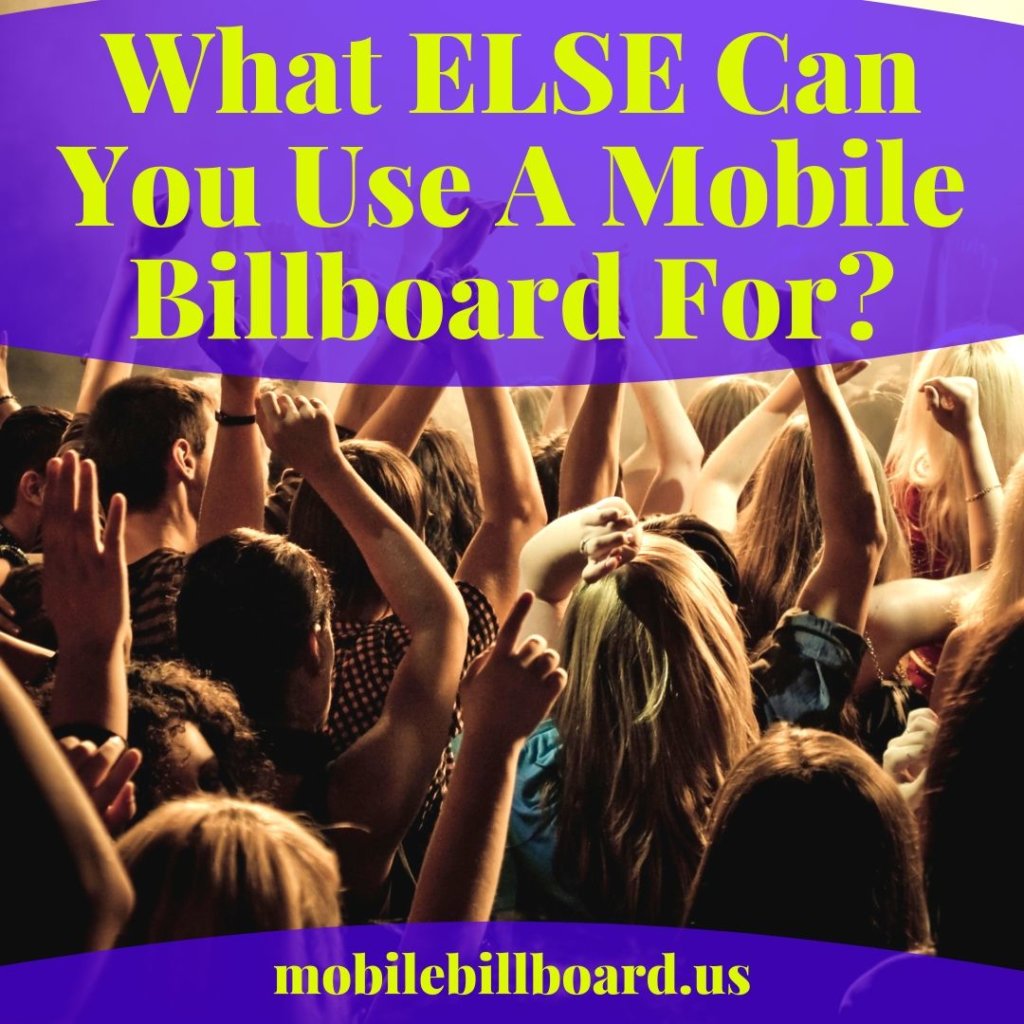 Mobile Billboards are great for more than just sales and promotion.
Isn't the point of a Mobile Billboard to promote your business and drive revenue? Not exclusively. While this is the most popular use for outdoor advertising, there are so many ways in which a mobile billboard can serve you and your community.
Here are a few other ways in which a Mobile Billboard might be useful…
Grand Opening – Park a Mobile Billboard in the parking lot or on the street near your new business as a huge announcement of your grand opening. This grabs attention from passersby and lets everyone know where exactly your new shop is.
Trade Shows – It may not seem feasible to use a truck for a trade show but this attention-grabber is becoming a popular option. If you use a digital billboard, you can run ads and announcements or an actual presentation of your services and products. Speakers and company reps can use it to train new employees or share valuable knowledge with show attendees.
Live Streams – For large city events, you can use a digital billboard to show a live stream of the event. For example, at the Chicago Air and Water Show, a giant digital billboard can show interviews, speakers and even closeups of the action. This makes for a better viewing experience because you can see what is happening on the other side of the event.
Sports Streams – Much like live streams, you can broadcast the big game in style. This is perfect for uber-fans who want to host a big shindig or communities looking to promote their local teams.
Parades – Mobile billboards are perfect for parades. You can advertise your business and services or relay important information to the audience. Product demonstrations, case studies, upcoming events – the sky's the limit on what you can treat parade-goers with!
Movie Screenings – Park a billboard truck on a street, driveway, in a parking lot or even on the lawn of your company and host movie nights. This is a great way to incorporate employee appreciation or community socialization.
Recruiting – Whether your employment billboard is driving around town looking for new hires or parked at a job fair event to garner attention, this is a great way to alert the community to new employment opportunities.
These are a few of the fantastic ways in which you can use a Mobile Billboard aside from advertising, gaining attention for your brand or launching a specific sale. No matter what your need, the important point to remember is that mobile billboards are built-in attention grabbers that can add flair to every project and help you tackle those goals. In a world where standing out is the only way in, mobile billboards might just be something to consider for your next event.
There is a reason why Mobile Billboards are remembered by the masses. See how it can benefit your business by clicking here >>> Mobile Billboards For You!