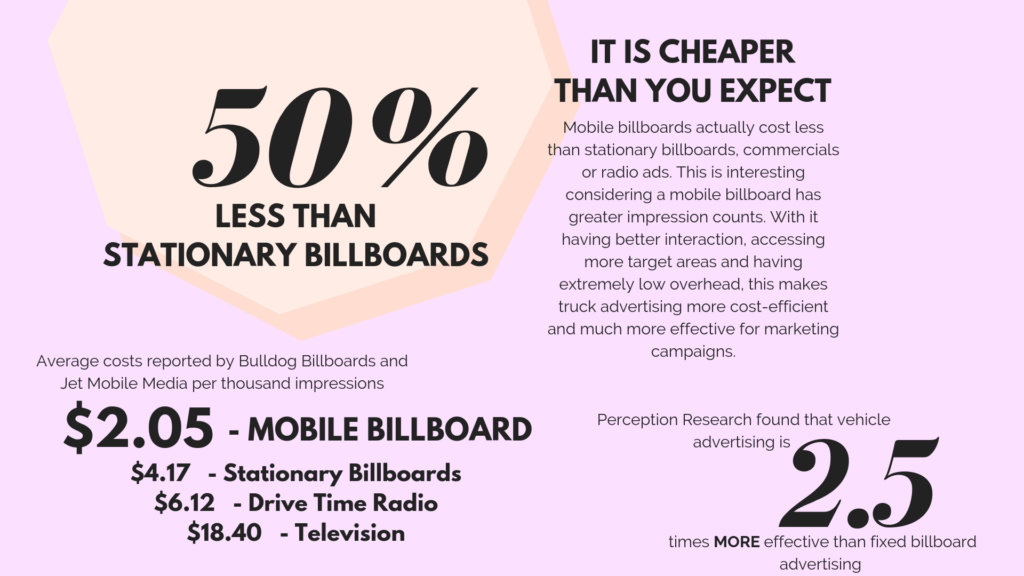 It Is Cheaper Than You Expect
Mobile Billboards actually cost less than stationary billboards, commercials or radio ads. This is interesting considering a mobile billboard has greater impression counts. With it having better interaction, accessing more target areas and having extremely low overhead, this makes truck advertising more cost-efficient and much more effective for marketing campaigns.
Consider these statistics:
Mobile Billboards cost 50% LESS than Stationary Billboards
Perception Research found that vehicle advertising is 2.5 times MORE effective than fixed billboard advertising
To put the numbers into better comparison, these are the average costs reported by Bulldog Billboards and Jet Mobile Media per thousand impressions…
$2.05 – Mobile Billboard
$4.17 – Stationary Billboards
$6.12 – Drive Time Radio
$18.40 – Television
Literally, the proof is in the pennies. Mobile billboards interact with more of a client's target consumer and cost less on the whole. At the end of the day, you can't argue with good 'ol common cents.
For more information on how effective mobile billboard ads are, check out our How Effective Are They? article.
How Do You Think Mobile Billboards Stack Up? Drop A Comment Below And Let Me Know!
Like this Post? Hit the Facebook Button below and Show Us Some Love!