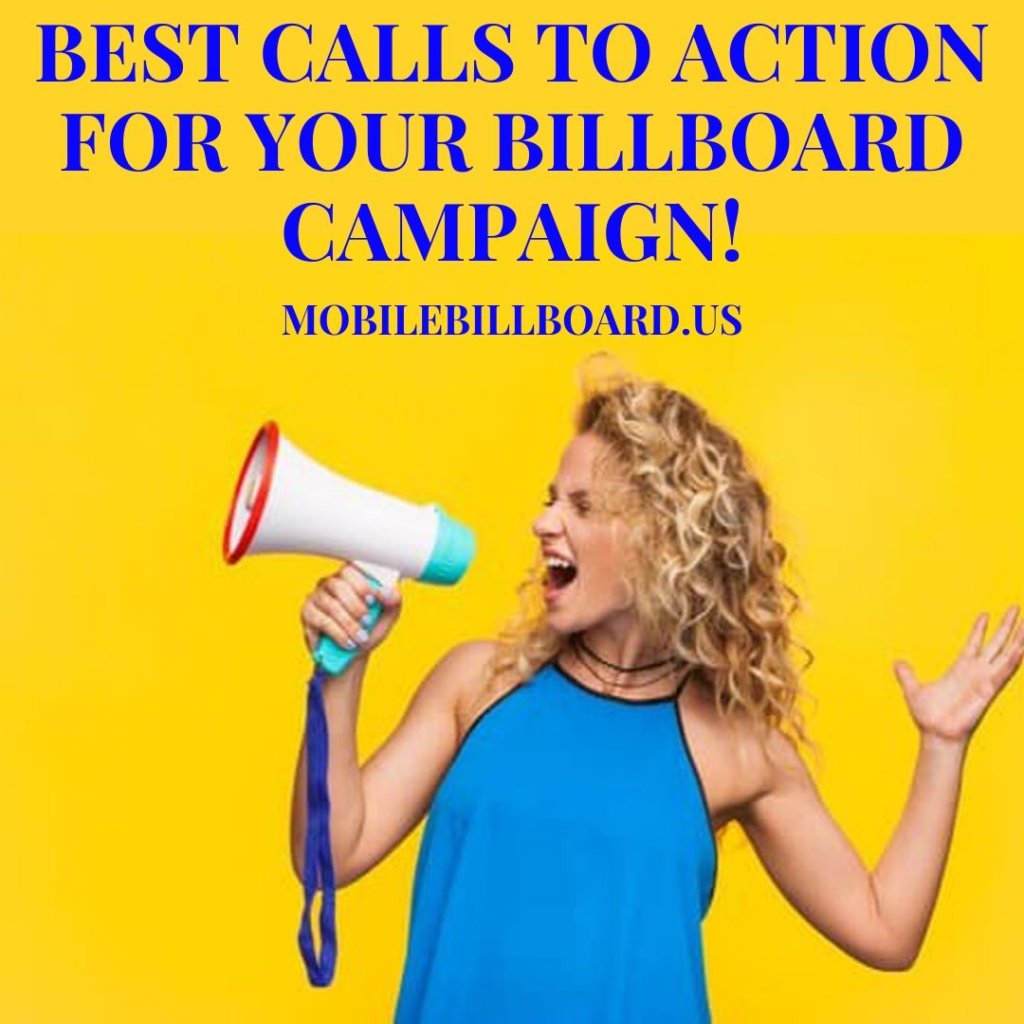 What is the point of your mobile billboard advertising campaign?
Are you trying to increase awareness of your brand? Are you promoting a new product? Perhaps you have a great deal going on for the season and want to draw in new customers? Whatever your reason is for creating a billboard campaign, you have to give your consumers an action to take.
So many ads actually miss this vital element. This is concerning considering that it is the step that actually makes consumers perform a profitable action. It doesn't matter if YOU think it's obvious what the customer should do, you have to state it out loud – bold and bare. Consumers don't want to guess when it comes to marketing. If you want them to do something, you need to tell them. This element is called the Call-To-Action.
Here are some of the most significant calls-to-action that you can implement into your mobile billboard…
Phone Number – If the best way to utilize your business services is through a phone call, make sure that is the focal point of your ad. Don't clutter it with other information or various forms of contact. Keep it clear and simple. Try and use a vanity phone number if yours isn't memorable. Consumers will be seeing these signs quickly so a number they can remember is key. 1 800 GoFedEx is a lot easier to remember than 630-823-9174.
There are companies that offer vanity numbers that forward to your real number for low monthly rates.
Website – Whether you're an internet-based company or you just want to give a lot of information about a particular subject or event, promoting your website is the way to go. Put your website at the bottom of your ad but make that the only contact information available. This way the consumer will know that if they want to found out more, they should check out the website.
Offering an incentive such as "first 100 visitors get 30% off" can increase the traffic to your site. With the advances in technology, folks can even visit your website through voice command several seconds after they see your ad.
Physical Location – Businesses that have a physical storefront might want to get customers to stop in after seeing the billboard. Giving the consumer directions is a powerful way to get them to come by. If you're a restaurant, advertising a mouth-watering dish or refreshing beverage with the tag "Get Off At Next Exit And Turn Right" can work wonders.
You can be super creative with the interaction on this type of call-to-action because of the advancements of smartphones. For instance, you could have a QR code on your billboard that, when the consumer scans with their smartphone, pulls up a map with automatic directions to the location. Sky's the limit!
With QR codes, social media, hashtags, promo codes, SMS codes and even recommendation phrases, you can come up with so many creative and fun ways to engage with your consumer long after they pass your billboard. The only limit to what you can do is your own imagination.
There is a reason why Mobile Billboards are remembered by the masses. See how it can benefit your business by clicking here >>> Mobile Billboards For You!