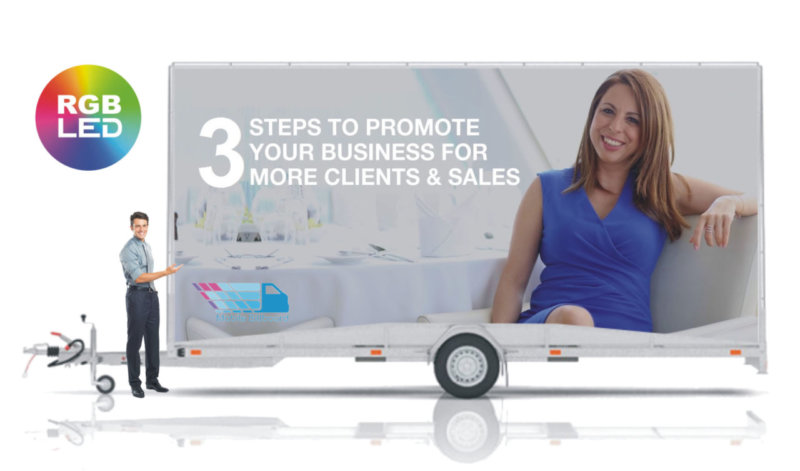 Our offer includes several options of the mobile billboards – on trailers or on trucks. Our vehicles run both during the day and at night, 7 days a week. All mobile billboards are lit with static lighting or have LED lighting effects. We also have additional options to support any advertising campaign. Mostly we focus on printed billboards placed on trailers because it gives room for much more opportunity than typical truck billboards do.
Why do we recommend trailers?
Trailers give the possibility of quick exchange of billboards. This means that we can present several different billboards in a single advertising campaign because billboards can be changed several times a day. This allows the presentation of various billboards in different locations. For example, a mobile billboard with your advertising can travel for 4 hours in one State and, within a few minutes, that same advertisement may appear and travel for 4 hours in another State, hundreds of miles away.
Unlike truck billboards, the billboard on the trailer gives the opportunity to adapt the trailer to various advertising campaigns. This means that your ad may look different than most of the ads you typically see. Our technicians can adapt the trailer to make it look like a movie scene, have the shape of an unusual vehicle or even be in 3D / 4D to attract the attention of as many people as possible.
Trailer billboards are eco-friendly because they have no engine, so they do not emit harmful exhaust fumes. In addition, it is narrower than a truck which is why it can be used in places where trucks are not allowed such as concerts, picnics, etc.
The low cost of billboard production and exploitation affects the price of the contract and saving clients money. For the same cost as 1 truck billboard, by choosing a standard trailer billboard, the customer can get up to 3 trailer billboards in three different places and gain 3 times more customer attention.
One mobile billboard during the day is just as effective as 25-50 stationary billboards.

The mobile billboard can see between 30,000 and 80,000 people in one day
Contact our representative to find out more or meet us at a convenient place and time.
We also offer additional options that effectively support the advertising campaign.
Read about:
and find out how important additional options are worth considering.
Be recognized always and everywhere